Positraction or Limited Slip Differential
Limited Slip Differentials (LSD) significantly increase the traction and performance of Jeeps, trucks, 4×4s, and RWD vehicles on the street, at the strip, or on the trail. Positraction is what General Motors called its limited slip differential, the term has come to refer to LSDs in general.
How Do Limited Slip Differentials Work?
An LSD's main job is directing torque where it's needed. When you're driving in a normal manner a positraction limited slip differential is pre-loaded and provides equal traction to both wheels. Mashing the throttle, taking a tight corner aggressively, or working through loose gravel trails will result in the limited slip differential limiting wheel spin across the drive axle by permitting the axle shafts to spin at different speeds while continuously trying to balance the application of torque between the two axles. This results in transferring more power to the wheel with the best traction which enhances the grip, control, and the predictability of the vehicle.
Are There Different Kinds of Limited Slip Differentials?
Yes. In their static state, when traveling in a straight line where wheel speeds are identical on both sides, all limited slip differentials provide equal traction to both tires. The difference between LSD types is how each unit applies torque when additional traction is needed.
Clutch-Type Limited Slip Differential
In regular circumstances a clutch-type unit, like the Yukon Dura Grip, uses an array of springs to apply pressure to the side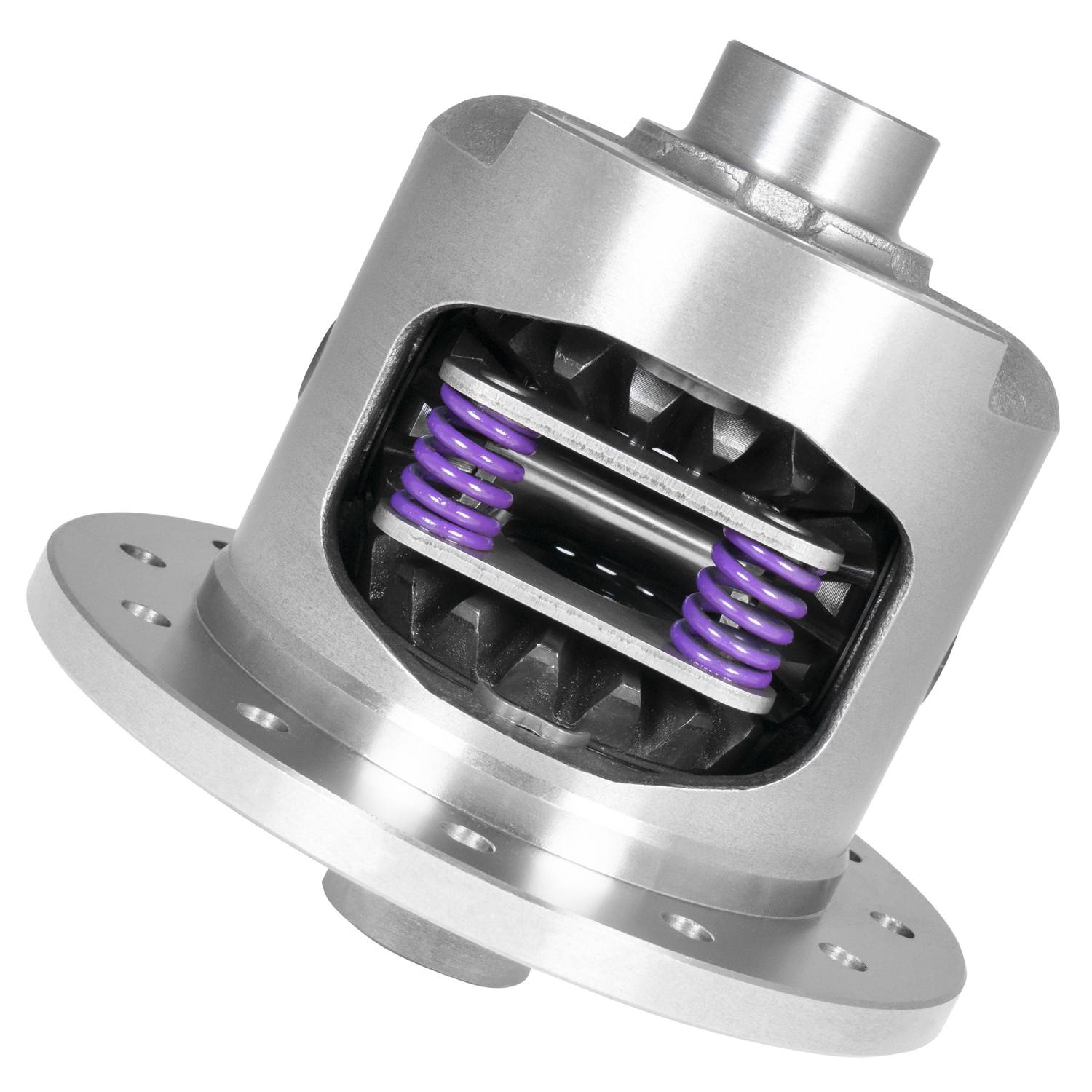 gears which puts pressure on the clutch packs in the outer part of the carrier. Both axles get equal pressure and both tires get equal traction. When a tire starts slipping, the clutch packs are engaged with differing resistance. The clutches compensate to maximize traction between the tires, transferring more torque to the tire that has the best grip while reducing torque transfer to the tire that has less grip.
All Dura Grip units are four-spring designs built with a high-strength nodular iron case, forged 4320 chromoly spider gears, and high-quality composite clutches. The Dura Grip positraction limited slip differential is engineered for long life and is completely rebuildable.
The clutches can be replaced to bring the unit back to its original performance level, or different clutches and spring rates can be used to fine tune the Dura Grip's performance to better match the style of driving/racing you are doing.
The Yukon Dura Grip is transparent in its traction enhancement, coming online only when the edge of adhesion is reached and slippage occurs. This makes it ideal for daily drivers that will be driven hard on the street and see extended action on the trail or at the track.
Yukon Dura Grip Specs
Four-Spring Clutch-Type LSD
High-Quality Composite Clutches
Tough Nodular Iron Case
Forged 4320 Chromoly Gears
Fits All Gear Ratios
Choose from Four Levels of Spring Pressure When Rebuilding
Each Unit is Quality Tested and Assembled in the U.S.A.
Recommended Gear Oil: Non-Synthetic 80W-90 GL-5
1-Year Warranty Against Manufacturing Defects
Gear-Type Limited Slip Differential
A gear-type LSD, like the Spartan Helical LSD from USA Standard Gear, have no frictional surfaces to initiate torque transfer. It uses floating helical-cut worm gears that operate in pockets and mesh together. Under normal driving conditions this type of LSD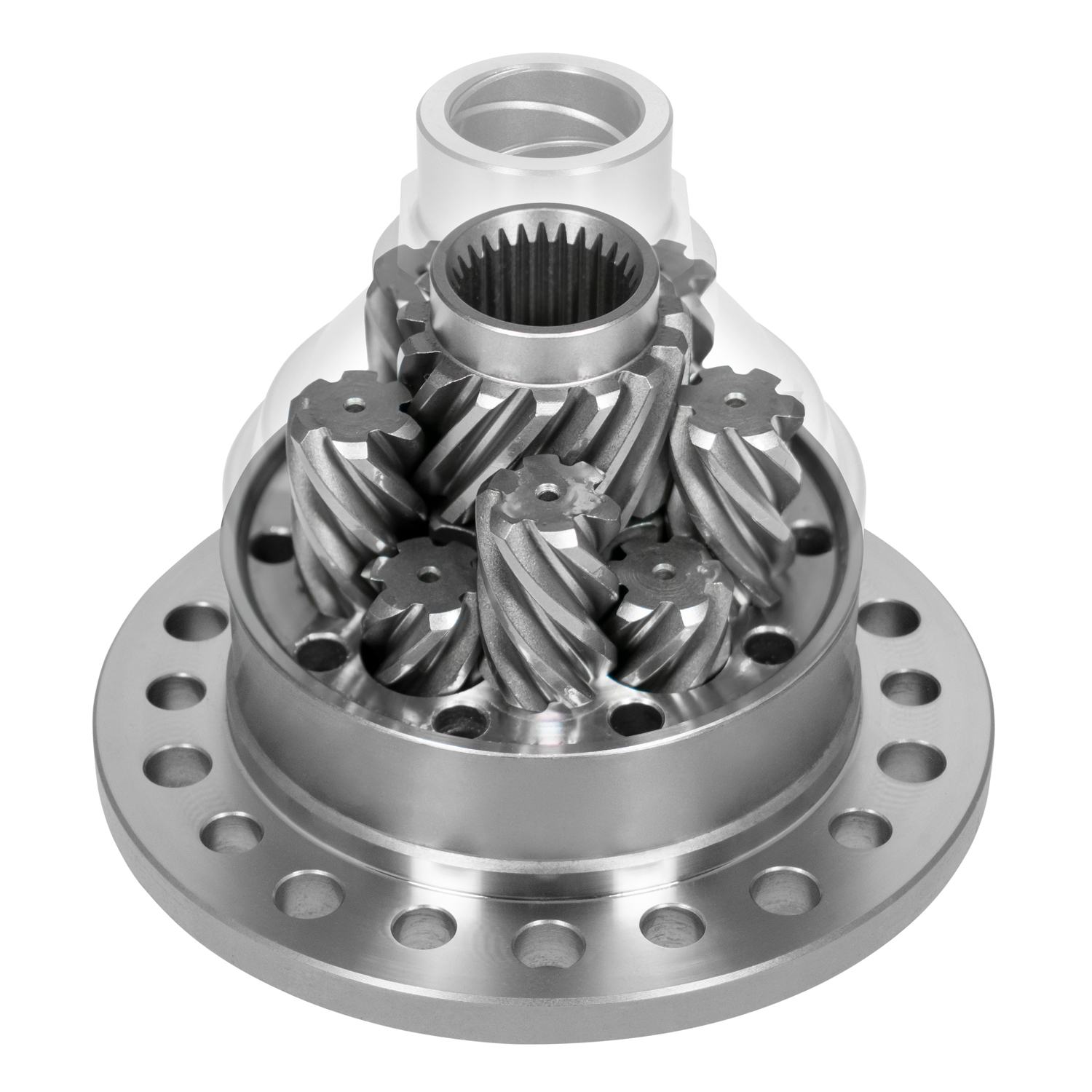 acts like an open diff. When acceleration or wheel slippage occurs, axial and radial thrust is applied to the helical gear pinions in their pockets. Under these loads, more torque is transferred to the tire with the best traction, in a progressive manner, as torque is withheld from the tire that is slipping.
The Spartan Helical LSD provides smooth engagement, quiet operation, and requires no maintenance. The unit's 10-pinion design has a strength advantage over an equivalently sized 6-pinion or 8-pinion unit because it has more points of contact and a greater surface contact area to deliver optimal load distribution. This LSD is built tough. The Spartan Helical LSD is a fully assembled unit featuring a forged 8620 grade steel case and stout 8620 alloy internals for superior durability.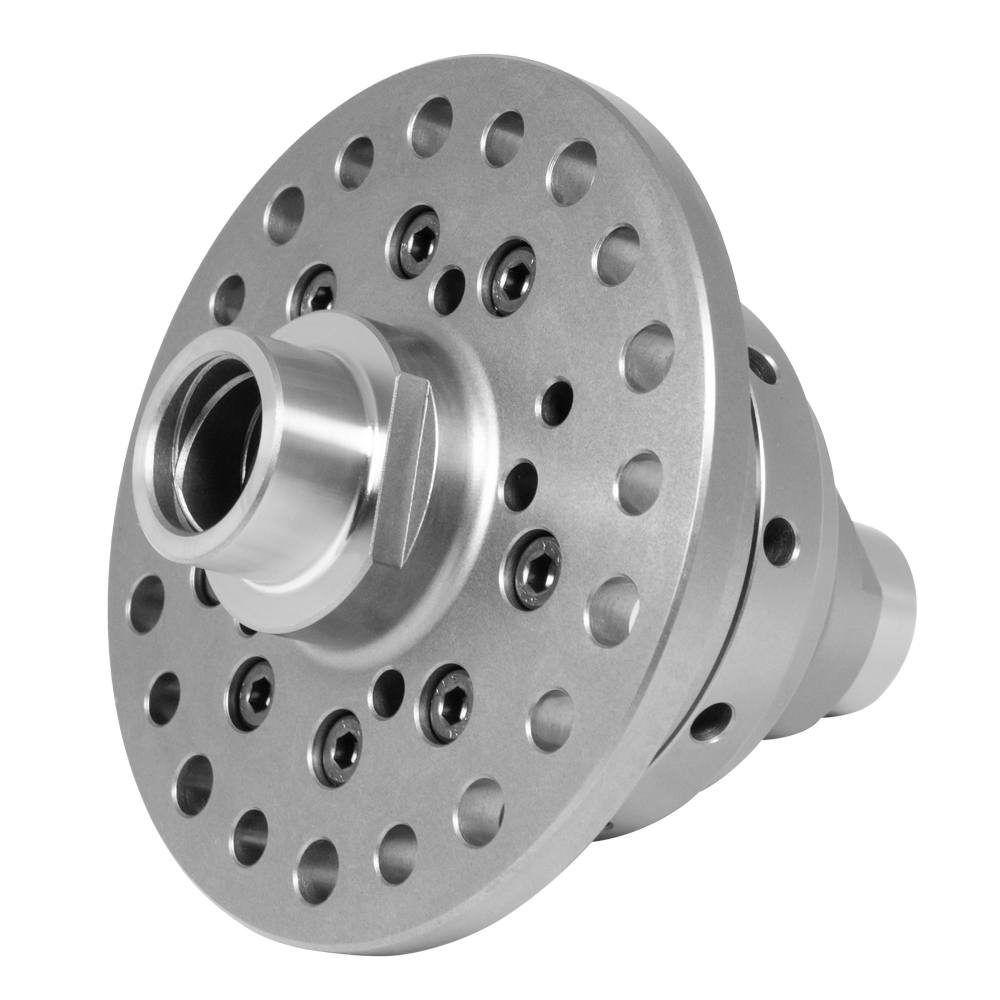 Spartan Helical LSD Specs
Fits Dana 30 Front Differentials
27 Spline, 3.73-And-Up Ratio
Enhanced Off-Road Grip, No Compromise of On-Road Drivability
Maintenance Free, No Clutches to Rebuild
Low Noise, Smooth Engagement, Linear Traction
Forged 8620 Grade Steel Case, 8620 Alloy Internals for Superior Durability
Recommended Gear Oil: Non-Synthetic 80W-90 GL-5
Use of Friction Modifiers Not Recommended
Assembled in the U.S.A.
1-Year Warranty Against Manufacturing Defects
Because they give your ride that extra bit of bite, limited slip differentials are ideal for daily drivers that will be driven hard on the street and see extended action on the trail or at the track. Whether you're facing mud, loose gravel, or steep inclines on the trail or slippery snow or rain on the road, the Spartan Helical LSD will ensure you have unrivalled traction and supreme confidence in your vehicle.
Shop Limited Slip Differentials